our story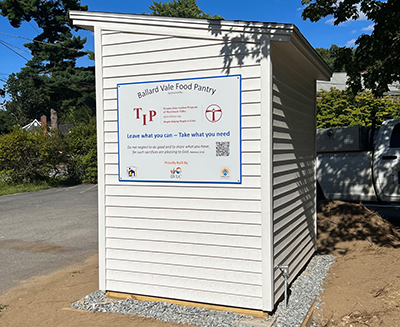 In 2022, Ballard Vale United Church was looking for opportunities to expand their service within their local community. The church had a longstanding partnership with Neighbors in Need in Lawrence, collecting cereal at each Sunday service as well as supporting their Christmas Meal program each December. Glen McLeod, then church Moderator, had a vision to expand the church's food ministry by doing more in their own neighborhood.
By September, a community food pantry and fridge was up and running. Glen, his son, Cameron, and brother, Jay, donated their time and expertise to build the two bay structure. The needed materials were paid for by a grant from the Trauma Intervention Program of the Merrimack Valley. Very quickly it became apparent that this "little project" was needed much more than anyone had imagined. Right from the start, so many people were visiting the pantry looking for food that the "leave what you can, take what you need" plan for a self-sustaining program wasn't keeping up with the demand. By the beginning of 2023, the pantry was serving between 300-350 families with approximately 2000 pounds of food per month.
In order to meet the need, Glen's wife, Shari, took over the responsibility of keeping the pantry stocked. She began soliciting donations, finding volunteers to keep the pantry clean and organized, and working cooperatively with other organizations to acquire surplus food from a variety of sources. Shari soon became immersed in the world of food insecurity, and while learning from those who'd been doing this work for many years, she and her husband developed a passion to do even more to fight hunger in the area.
Glen began to imagine setting up a restaurant style feeding program utilizing a newly built commercial kitchen at the church. He and Shari soon realized that they could have a bigger impact on the problem of food insecurity if they first focused on building a food hub prior to starting a meal program. A
hub
could facilitate procurement of food for the pantry, a future meal program, as well as for other local food programs. It could manage the acquisition of surplus foods, including storing, repackaging, and redistributing it to meet the individual needs of each organization served.
Glen and Shari continued to successfully run the pantry at the church, while simultaneously researching and developing the new hub program. In May of 2022, Shari was recognized for her work on the pantry, receiving a
Citizen's Who Care Award
from the Rotary Club of Andover.
Village Food Hub was founded in February of 2023. The vision for the hub is to distribute 100,000 pounds of food in the first year. It is projected to be in full operation in the fall of 2023.